Registration
You can register in two ways:
Electronically
To register electronically, simply complete the on-line registration form. If you encounter problems registering on-line, please contact Mandy Mann at Registration Systems Lab by phone +1 (407) 971-4451 or email.
Via Mail or Fax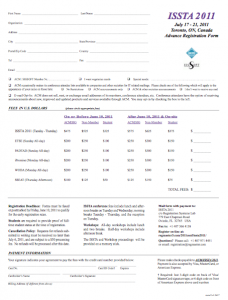 Simply download or print the Adobe Acrobat PDF file containing the registration form.
Submit the completed form after filling out the form completely and specifying the payment method and any applicable credit card information.
Mail or fax the form and any payment papers (such as a check or purchase order).

Mail them to:
ISSTA 2011
c/o Registration Systems Lab
779 East Chapman Road
Oviedo, FL 32765 USA
Fax them to: +1 (407) 366-4138 Forms must be faxed or postmarked by Friday, June 10, 2011 to qualify for the early registration rates.
ISSTA Conference fees include
lunch and afternoon breaks on Tuesday and Wednesday;
morning breaks Tuesday – Thursday, and
the reception on Tuesday.
Workshops
All-day workshops include lunch and two breaks. Half-day workshops include afternoon break.
The ISSTA and Workshop proceedings will be provided on a memory stick.
Registration Terms and Conditions
Payment Methods
We must receive your full payment prior to the conference, or you will be expected to pay on-site in order to attend the conference. Please make checks payable to ACM/ISSTA 2011. Payment is also accepted by Visa, MasterCard, or American Express. (Required: last 3-digit code on back of Visa/ MasterCard signature tape, or 4-digit code on front of American Express above card number.)
Cancellation Requests
Refund requests received in writing and postmarked by July 6, 2011 will be processed minus a $50 administrative fee. NO REFUNDS WILL BE GIVEN AFTER JULY 6, 2011. If you do not cancel and do not attend, you will be charged the full registration fee. Substitute attendees are welcome at no extra charge; however, we request written notification prior to the conference for preparation of registration materials. For refunds, please allow two to four weeks for processing after the conference.
If you have any problems with this registration system, please send us an email.
We look forward to seeing you at ISSTA 2011.
The Conference Hotel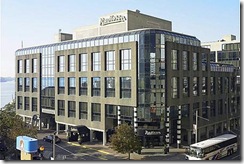 All workshops and technical sessions for ISSTA'11 will be held at the Radisson Admiral Toronto Harbourfront.
The Radisson Admiral Hotel Toronto Harbourfront is an intimate, boutique-style hotel providing dramatic views of Lake Ontario and the CN Tower. Guests will enjoy complimentary wireless Internet access, a seasonal outdoor pool, a Fitness Centre, a Business Centre and an on-site restaurant offering panoramic views of the harbour and the skyline. This downtown Toronto hotel's location is minutes from the CN Tower, Rogers Centre, Air Canada Centre, Metro Toronto Convention Centre and Direct Energy Centre and is the ideal setting for events and meetings for up to 220 guests. Make your reservation at the Radisson and see what sets it apart from other hotels in Toronto, Canada.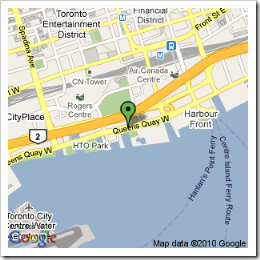 Hotel Reservations
You can make a reservation:
by calling +1 800-333-3333 or +1 416-203-3333 and mentioning "ISSTA 2011″.
The conference rate is $169 CAD per night, plus tax, and it is good from July 14th through July 24th. The cutoff date for the reduced hotel rate is June 17, 2011.
Visa Support Letters
Requests for visa support letters for purposes of attending or presenting at ISSTA 2011 are handled by ACM.
International registrants should be particularly aware and careful about visa requirements, and should plan travel well in advance. All visa inquiries must be handled by ACM headquarters.
Please send your request for a letter in support of a visa application to supportletters@acm.org. You must include:
Your name;
Your mailing address;
Your fax number;
The name of the conference you are attending (i.e., ISSTA 2011); and,
If you are an author of an accepted paper or poster, please provide the title.
Once the information is sent, ACM expects to issue the letter within a week. Please note that ACM will only issue visa support letters to individuals who have registered to attend ISSTA. Citizen and Immigration Canada (CIC) is aware of ISSTA 2011 and will use the Visa Support Letter to process your visa request.
CAPS Funds
The SIGSOFT-CAPS program provides financial assistance to students to help defray costs of attending SIGSOFT-sponsored conferences and workshops. Please visit 
SIGSOFT CAPS website
for more information.